The BVD Fuel Card -

What's best for your fleet
Join Canada's Largest Fuel Network of over 850 locations across North America. 
Loaded with perks that make operating your business simple and hassle-free, as well as making long drives comfortable and sustainable, the BVD fuel card is essential for the growth and management of new or established fleets across Canada. The loyalty card you've been looking for is here!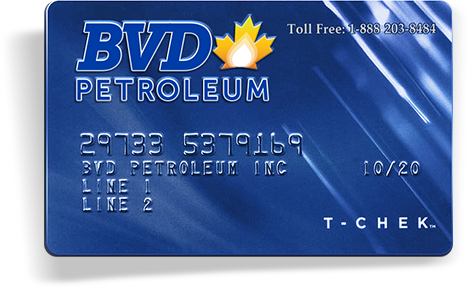 With the BVD Fuel Card, you're getting the toolkit you and your fleet operators need to efficiently get the job done. Some of our most popular features include:
Spending Control
With features such as area use restrictions and fuel card limits, you'll always have full control over how much is being spent on fuel, convenience stores, and where purchases take place.
Tracking & Reporting
Stay current with regular reports that detail all transactions and where they took place. BVD's advanced-reporting system also offers real-time transaction viewing for optimal tracking efficiency.
Canada's Largest Fuel Network
By joining Canada's Largest Fuel Network, you're getting access to a network on the most efficient routes across North America. With the best prices and the most convenient locations, you'll save money on every trip. Contact us now to get started!
Make Your Trips
Comfortable
We know the road, and how much it takes out of drivers. We've emphasized comfort and convenience at every BVD truck stop, so you can get back on the road feeling your best.
Free Wifi & Fax
Stay in touch with the people that matter with high-speed wifi offered at every single BVD Truck Stop.
Laundry & Shower
Stay clean and feel refreshed on the road with our brand-new shower and laundry services offered at most BVD Truck Stops.
Driver's Lounge & Restaurants (at participating locations)
Take a load off at one of the many BVD Driver's Lounges located across Canada — and enjoy high-speed Internet and cable TV.
We take your security seriously, which is why the BVD Fleet Card comes loaded with safety features including:
Card-blocking option
Easily terminate cards that can access your account with our card-blocking feature.
Unusual Transaction Reporting
We immediately let you know of any suspicious transactions, giving you the time you need to act quickly and decisively.
Disputes Department
Things happen, and our disputes department is always on standby to make sure that any disputes can be resolved rapidly.
With so many useful benefits, it's no wonder why fleet operators all over North America are choosing the BVD Fleet Card over the competition. Ready to join Canada's Largest Fuel Network? Apply Today!